Office Hours:
Monday - Friday, 9am - 5pm, MST.
Jan 3, 2018
by Aspen Anderson
Salt Lake City, UT
RidgeCrest Herbals, the maker of the #1 selling natural herbal lung formula, ClearLungs®, is happy to announce the release of the third annual RidgeCrest Herbals Almanac.
Nichole Carver, RidgeCrest Herbals' Chief Marketing Officer, says, "The Almanac has always been inspired by the people we love, the things we love, and, ultimately, our love of herbal traditions both new and old. Because it is our passion, we hope to inspire you to continually seek out knowledge and to learn and apply the tools so that this sacred information isn't ever forgotten. Also, it's fun and awesome at the same time. It's FAWESOME!"
In 2016, RidgeCrest Herbals printed its first Almanac with huge success. The reception of the Almanac exceeded all expectations, and the popularity led to a twelve-fold print increase for 2017. The 2018 Almanac marks continued growth with a 25,000 copy print. Will Christensen, RidgeCrest Herbals' President and the creative force behind the Almanac concept notes, 'We believe in transparency in every aspect of what we do, and the Almanac acts as a way to share ourselves and our dedication with our customers. This increased print will help us do that. The first article in our Almanac, written by our Chief Botanical Officer Brittini Gehring, lays out our commitment to Quality, Testing, and Transparency. It acts as our first volley as we work towards 100% transparency with our customers. It is going to be a major endeavor and will take some time, but they can look forward to continued efforts throughout 2018 and beyond to increase the amount of information made public by RidgeCrest so our customers can know absolutely everything about the products they are using for their health."
The Almanac captures the company's character, personality, and culture delightfully. Customers have raved about the stylishly old-fashioned booklet with up-to-date content that acts as a window into the culture of a DIY homesteading, outdoor-loving, family-friendly company in the shadows of the Wasatch mountains. RidgeCrest Herbals' CEO, Matt Warnock, says, "We are a pretty close company, and we feel that moral and spiritual values are important. The Almanac hopefully acts as a reflection of our dedication." The Almanac provides customers with a planning calendar packed with helpful tips, articles, recipes, and beautiful photographs, compliments of RidgeCrest Herbals' team. It also has information on monthly sales, product ingredients, and more.
RidgeCrest Herbals has partnered with Whole Foods Magazine for their January 2018 edition, and a copy of the Almanac has been distributed to Whole Foods Magazine subscribers along with their regular January magazine. Heather Wainer, Whole Foods Magazine publisher, commented, "We are honored to once again be able to bring you the RidgeCrest Herbals' Almanac with the January issue of Whole Foods Magazine. We love working with all our friends at RidgeCrest and are glad that we can bring our readers such a useful, fun tool. It is obvious when you go through the pages how much work, love, and creativity went into the Almanac from every employee at RidgeCrest, in a way that reflects exactly how we feel about each issue of Whole Foods Magazine.
In addition, a copy of the Almanac is distributed to RidgeCrests' retailers throughout the country for the enjoyment of their employees and is available to the public online at RCHerbals.com. A hard copy can be mailed to individual customers by calling 800-242-4649 and are often available at RidgeCrests' booth at trade shows.
---
Jan 3, 2018
by Aspen Anderson
RidgeCrest Herbals has once again been the recipient of an award for their unique, eclectic formulas. This time, it is their ClearLungs® Immune that has won the Taste for Life Essentials Award in the category of "Breathe Easy."
ClearLungs® Immune is just one member of the ClearLungs family, RidgeCrests' unique lineup of products to support free breathing and lung health. Due to its effectiveness, the original ClearLungs® formula is the #1-selling lung-health product on the market. The botanical experts at RidgeCrest took that original, powerful formula of 13 synergistic and balanced TCM herbs and boosted it with additional Ayurvedic and Chinese herbs known to support healthy immune function and promote the body's natural state free from excess inflammation to provide the perfect solution for staying healthy year-round. Just some of the herbs include:
Elderberry, a rich source of quercetin and a common go-to for immune support

Olive leaf, Isatis root, and Andrographis, all known to be rich in antioxidants

Mullein, used for respiratory health maintenance in herbal traditions around the world

Dong Quai, scientifically shown to support the body during natural white blood cell production and help with healthy dilation of the bronchioles

Poria, for spleen support

Luo Han Guo fruit, rich in Vitamin C

Schisandra Fruit, an adaptogen to help manage stress
... and more. For a full list of ingredients, visit the product page here.
ClearLungs® Immune, which also received the 2016 Taste for Life Better Nutrition Award, Best Supplement, Sinus % Respiratory Support Category, joins RidgeCrests' other award-winning products, including:
Essential Eyes™ - 2017 New Hope Network's NEXTY Award, Best Condition-Specific Supplement
PhysiQOL™ - 2017 Taste For Life Better Nutrition Award, Best Supplement, Pain Relief Category
AnxietyFree™ - VITY Award, 2014 & 2016, Taste for Life Better Nutrition Award, Best of Supplements
ThyroidThrive™ - 2017 Taste for Life Better Nutrition Award, Best Supplement
RidgeCrest is proud to continue offering quality, eclectic, effective formulas to their customers and looks forward to many more awards of excellence in the future.
---
Apr 28, 2017
by Jamie Miller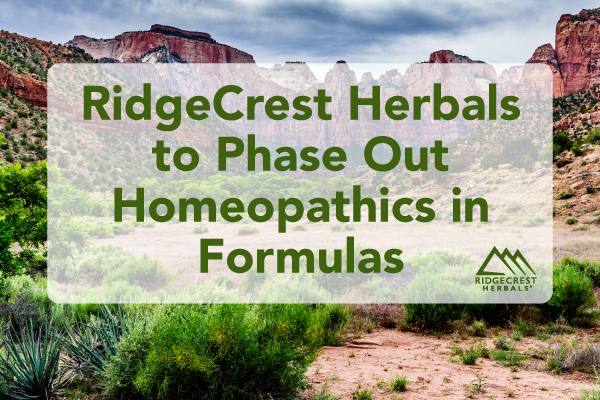 Beginning in 2017, Ridgecrest Herbals has decided to phase out the homeopathic elements that exist in some of our formulas. We expect the full process to take around two years as we carefully work to replace the homeopathics with equally effective herbal components.Ridgecrest Herbals continues to believe in the effectiveness and benefits of homeopathic remedies, but we feel that in the current hostile regulatory atmosphere it is more beneficial for us as a company to remove homeopathy from our products. This decision has come from a multitude of events in the industry:
Historically, homeopathic drugs were permitted to indicate suggested uses based on the Homeopathic Pharmacopaeia of the United States (HPUS). These HPUS usage guidelines are based on homeopathic provings, which are fundamentally different in nature than the clinical trials used by conventional drugs. Traditionally, the FTC has not significantly regulated either advertising or labels of homeopathic drugs, leaving the FDA to act as the primary regulatory agency for homeopathy.
For many years, the FDA has been opposed to combinations of homeopathics with other products such as herbs, because homeopathics are regulated as drugs and herbs are generally regulated as supplements. This makes it difficult to satisfy conflicting regulations with respect to formulation and labeling.
The FDA has recently taken the position that homeopathics should be subject to identity testing. Because of the nature of the small dosages of the homeopathic tradition, this regulation is impossible to satisfy with current science.
In November 2016, the Federal Trade Commission announced a new "Enforcement Policy Statement on Marketing Claims for Over-the-Counter Homeopathic Drugs," stating that "the FTC will hold efficacy and safety claims for OTC homeopathic drugs to the same standard as other products making similar claims." This position essentially adopts the "clinical-trial" standard applied to pharmaceuticals, and precludes reliance on the HPUS. This will vastly increase the cost of traditional homeopathic medicines, or make it very difficult for manufacturers to describe to consumers what the product is designed for.
In addition, homeopathy has recently become somewhat of a target for self-appointed "consumer advocates" and professional plaintiffs who prey on parts of the natural products industry that they feel are insufficiently "regulated" or "scientific."
For all of these reasons, we have decided to discontinue our homeopathic/herbal combination products and focus on our herbal formulas.
History of Homeopathy:
The theory of homeopathy was developed by German Physician Samuel Hahnemann at the turn of the 18th century. He based his theory on the Greek philosophy of "like cures like", the belief that a substance that causes the symptoms of a disease in healthy people would cure similar symptoms in sick people. It is believed Hippocrates prescribed a miniscule amount of mandrake root to cure mania, understanding that larger doses would produce mania. The practice was a welcome shift from bloodletting, purging, and medicines that could sometimes include lead, mercury, and opium. It gained popularity throughout the 19th century, and helped pave the way for more scientific approaches to medical treatment. In 1938, before the pharmaceutical industry became powerful as in modern days, the FDA recognized homeopathic preparations as drugs.
Homeopathy Around the World:
Homeopathy is the second most-used natural medical system worldwide (next to Traditional Chinese Medicine), with over 500 million people around the world incorporating it into their healthcare. The World Health Organization has called for a greater acceptance of the practice as well as a push for more evidence-based studies into the practice. In 2004, they produced a comprehensive list of every known study in the world, and concluded that there was much evidence of its effectiveness, though more research was needed. In Europe, homeopathy is supported and is an accepted form of natural practice, and many countries integrate it into their state-subsidized health care systems, reimbursing for care, regulating and protecting homeopathic drugs, and financing research. It is legally recognized in 42 countries, is written into the constitution of Sweden and in Great Britain Queen Elizabeth is a patron of the Royal London Homeopathic Hospital, and her husband, Prince Phillip, has played an active role in promoting the practice.
In the US, however, the road for homeopathics has been much more difficult, as the recent federal developments prove. Natural medical alternatives have little federal lobbying power, and regulations such as these hurt the ability for advocates of natural medicine to offer their services to the general public. As a result, it can be difficult to describe exactly how a product works when you are not allowed to properly or adequately explain what traditional methods, backed by hundreds of years of global efficacy, believes them to do.
Conclusion:
Because of the difficulty of selling products while trying to work around the governmental oversight that does not allow companies to properly describe the effects of their products, Ridgecrest Herbals has found our homeopathic remedies in the crossfire. While homeopathy makes up less than 2% of our products by weight, we do feel that their inclusion leads to better effectiveness than herbal remedies alone. Unfortunately, in light of the current regulatory environment, they simply are not worth the fight. We will be researching herbal alternatives in an attempt to improve on these formulas so they continue to be as effective as we are proud they have always been. For some this will mean including products proven to increase bioavailability, making the already existing ingredients more useful, and for others it may mean integrating new herbs. While we are disappointed at what we see as an over-regulation of the natural products industry, we are committed to providing quality products that meet all federal requirements, and we will work to guarantee our products to be as powerful and effective as ever.
---
Apr 21, 2017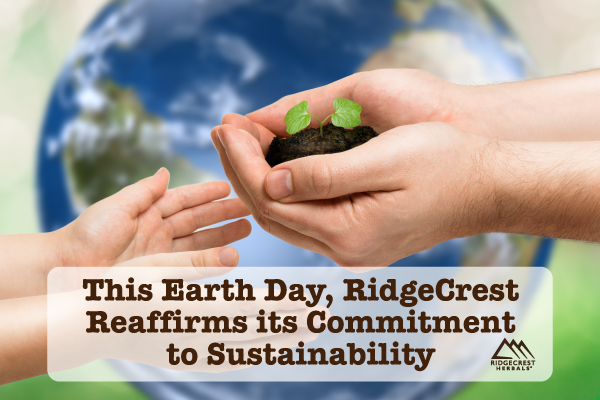 Ridgecrest Herbals makes it a point to lead the Utah supplement industry in our efforts to encourage sustainability, innovate new strategies to reduce waste and support renewable energy. We believe this is a crucial part of our mission as an all-natural herbal remedy provider. We look to nature to find solutions for health issues, and maintain that destroying our environment in the pursuit of profit is unsustainable and at odds with our roles as stewards of nature. We make every effort to improve our processes to reduce our environmental footprint.
Our warehouse facilities and headquarters are 100% sustainably powered. We support renewable energy and are Visionary-level business partners with Blue Sky, the Rocky Mountain Power initiative to use sustainable energy. On April 18th, we received an award from Blue Sky for our business efforts to promote sustainable, renewable energy.
We replaced all lighting in our warehouse and offices with LED lights to cut energy waste.
We use washable towels in our bathrooms, and bamboo forks and spoons are available for staff use in our kitchens, cutting down on paper and plastic waste.
We utilize recycling bins in the office for all staff waste.
We train new stores carrying our products with tips and ideas to reuse the boxes our products come in. We use high-quality corrugated cardboard boxes to encourage reuse.
Our cardboard boxes are made with at least 47% post-consumer waste, and corrugated cardboard is the most successfully recycled material in America, with an average recycle rate of 92.9%.
Our annual publication for our retailers, the Ridgecrest Herbals Almanac, is full of tips, tricks, recipes, and ideas to encourage those down the supply chain to practice sustainability in their own lives. Some examples include how to ferment your own food, vermicomposting, gardening tips, and more.
We know we can do more, and we are constantly working with our employees to come up with new, innovative ways to increase our sustainability measures. By encouraging participation from our team, we are continuously pushing our mission of sustainability and stewardship to the next level.
---
Feb 21, 2017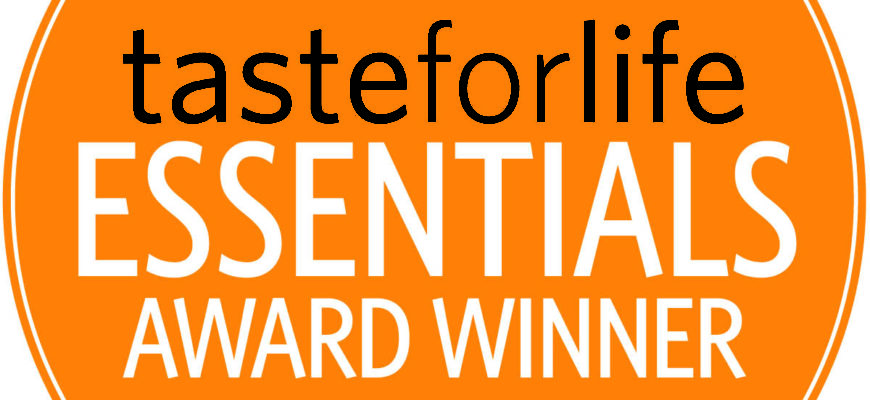 Ridgecrest Herbals is thrilled that our PhysiQOL herbal supplement has won the 2017 Taste for Life Essentials Award in the category of Pain Management. This recognition is a tribute to the hard work our company has put into this unique product and the results our customers experience. Designed to help improve quality of life (QOL) during periods of pain or discomfort, we combined homeopathic remedies with herbal products used for centuries to help reduce pain and promote a healthy inflammatory response such as Boswellia, ginger, bromelain, turmeric, and white willow bark. The result is an eclectic, effective product that helps manage the root issues of many common aches and pains. Whether it is tension in the neck or head, inflammation associated with overuse, or menstrual discomfort, PhysiQOL is a natural, safe alternative that is non-habit forming and gentle on the liver. Ridgecrest Herbal's patented formula contains a variety of the most powerful ingredients for natural pain relief used in Ayurvedic medicine, traditional Chinese medicine (TMC) and Western herbalism. Ingredients in PhysiQOL are fast-acting and have been shown to help reduce discomfort and promote a healthy inflammatory response in the joints, muscles, digestive tract, and respiratory system. In addition to pain management, this formula includes ingredients designed to help bring a sense of calm to help reduce stress for faster recovery, and still others that increase the bioavailability of the product.
The Taste of Life Essentials Award is a great honor, demonstrating the quality and effectiveness of our PhysiQOL product, and places our exclusive solution for natural pain management alongside some of the best products in the industry. Released in 2015, this is PhysiQOL's first recognition, adding it to our list of other quality, award-winning products including ClearLungs Immune (2016), Anxiety Free (2014, 2016), and Thyroid Thrive (2016).
---
Dec 20, 2016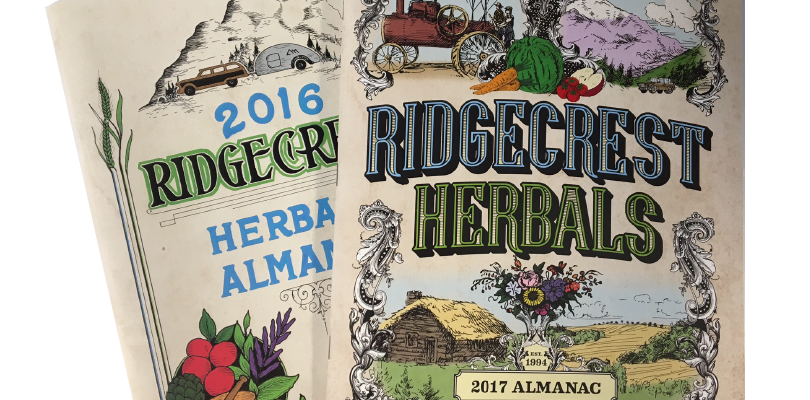 RidgeCrest Herbals Almanac success leads to a new partnership with WholeFoods Magazine and higher production for 2017.
SALT LAKE CITY, UT December 13, 2016 - RidgeCrest Herbals, maker of the #1 natural herbal lung formula, ClearLungs, is happy to announce they have teamed up with WholeFoods Magazine for the production of the annual 2017 RidgeCrest Herbals Almanac publication.
Nichole Carver, the Retailer Marketing Specialist with Ridgecrest Herbals, states, "We're excited about our partnership with Whole Foods Magazine. They've given us the opportunity to get the Almanac into more hands, and then some. If you subscribe to WholeFoods Magazine, you'll see a copy bundled with the January Issue. And if not, give us a call to get one!"
In 2016, RidgeCrest Herbals printed the first Almanac with huge success. The reception of the Almanac continued to be a hot topic bringing excitement throughout the year, causing demand to exceed the amount printed. RidgeCrest Herbals Chief Marketing Officer, Will Christensen, reported, "Not only was it another fun year with our team writing articles and adding new store and vendor tools, we were taking hundreds of requests for next years' edition. So much so that we will be printing twelve times as many for 2017."
Customers could not get enough of the old fashioned, but up to date, booklet filled with interesting, useful - and some not so useful - tidbits of information. The Almanac provides customers with a planning calendar packed with helpful tips, articles, recipes and beautiful photographs, compliments of RidgeCrest Herbals' team.
Heather Wainer, WholeFoods Magazine publisher, commented, "When I saw the almanac for the first time last year I caught all of Team RidgeCrest's excitement. It embodies the personality and integrity of the company while providing the retailer with useful information, all in a fun way. Even though we also do a Planning Calendar, I knew that this would be a great companion piece to what we have been doing for years. I love working with all at RidgeCrest and glad that when they came to me questioning if there was a way more people could see the Almanac I had the answer. And I'm so proud that we can do it together. I know our readers will love it as much as we do."
The Almanac captures the company's character, personality and culture delightfully. As summarized by RidgeCrest Herbals Chief Eclectics Officer and President, Matt Warnock, "We are a pretty close company, and we feel that moral and spiritual values are important, and we can summarize ours in six key areas. The first three describe how we design and produce our products: Eclectic, Innovative, Effective. The next three describe how we treat other people, especially our customers and each other: Trustworthy, Kind, Fun!"
About RidgeCrest Herbals
RidgeCrest Herbals makes natural remedies for individual health needs, including the top selling ClearLungs, SinusClear, Anxiety Free, Hair ReVive, and more than 20 other formulas. The company's eclectic approach combines natural methods and ingredients from around the world to deliver the most effective results. To learn more about RidgeCrest Herbals or to order the RidgeCrest Herbals Almanac visit www.rcherbals.com or call 1-800-242-4649.
---
Aug 2, 2016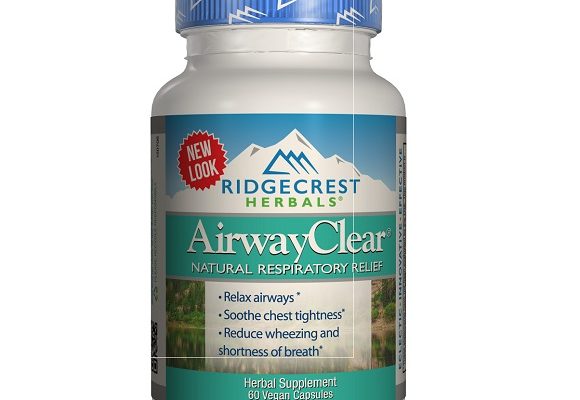 Regulatory changes prompt an updated formula named AirwayClear, formerly known as AsthmaClear.
SALT LAKE CITY, June 24, 2016 - RidgeCrest Herbals has released a new product to replace their popular product AsthmaClear. The new product, called AirwayClear, has almost the same herbal formula as the former AsthmaClear product, but does not contain homeopathics. This change was precipitated by recent FDA statements and enforcement activity taking the position that asthma was not appropriate for over-the-counter (OTC) treatment, and specifically warning against homeopathic OTC treatments, a class that apparently included AsthmaClear. The new AirwayClear formula contains no homeopathics, but contains the exact same herbal blend formerly found in AsthmaClear. It also contains AvailaBlend, a patented natural formula for enhancing potency by increasing bioavailability. Because the new AirwayClear product is regulated as a Dietary Supplement, rather than as a homeopathic drug, the name and UPC code were also changed. You can find the new formula at www.rcherbals.com.
"AsthmaClear has been a consistent top seller for us since 1994, so we don't take these changes lightly. But because homeopathic medicines are not dose-dependent, the actual change in the new formula was about 2% by weight, " said Matt Warnock, CEO. "I doubt most existing users will notice a difference in the effectiveness of the formula, and some may actually find it more effective, because of the addition of AvailaBlend. But the change was needed to stay within the changing FDA regulatory framework."
Customer feedback since the update has been generally positive, although the name and formula change has certainly created some uncertainty as consumers braced for adjustments to a product that they have used and enjoyed for so long. Consumers or dealers with questions about the new formula can call the company help line at 1-800-242-4649.
About RidgeCrest Herbals
RidgeCrest Herbals makes natural remedies for individual health needs, including the top selling ClearLungs, SinusClear, Anxiety Free, Hair ReVive, and more than 20 other formulas. The company's eclectic approach combines natural methods and ingredients from around the world to deliver the most effective results. To learn more about RidgeCrest Herbals visit www.rcherbals.com or call 1-800-242-4649.
---
Jul 12, 2016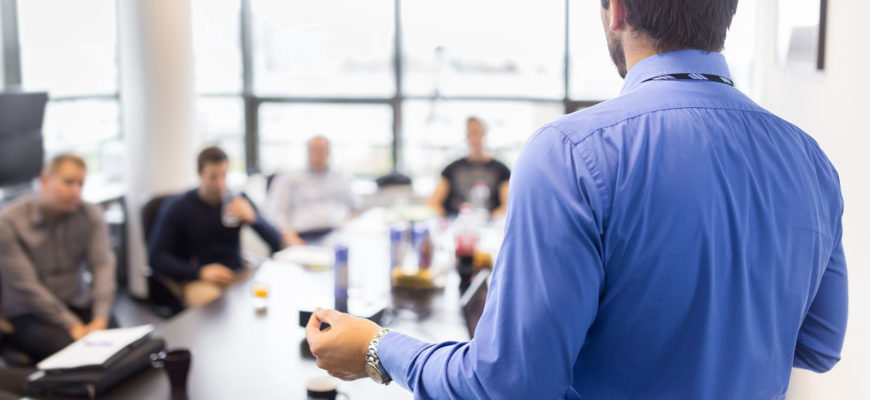 Will Christensen is promoted to Chief Marketing Officer and Brittini Gehring to Chief Botanical Officer to continue upon the success of ClearLungs, the #1 Natural Lung Decongestant.
SALT LAKE CITY, June 24, 2016 - In 2015, RidgeCrest Herbals, maker of the #1 natural herbal lung decongestant ClearLungs, promoted two senior leaders to support the company's strategic growth and innovation. After ten years of developing customer relationships, Will Christensen will occupy the lead position as Chief Marketing Officer, managing internal relations and promotions for the company. Brittini Gehring, a nine year product researcher and certified master herbalist, takes her seat as the Chief Botanical Officer, overseeing product formulation, development, and relations with manufacturers and suppliers. You can learn more about RidgeCrest Herbals at www.rcherbals.com.
"These are valued and proven team members who have stepped up to new roles," said Matt Warnock, CEO. "They have consistently delivered in the past, and I am excited to see what they can do with these new responsibilities and opportunities. 2015 was a record year for us, and I only expect that trend to increase with their new ideas and additional direction."
Will Christensen, Chief Marketing Officer
With a long history as both a natural product retailer and a natural ingredient supplier, Will Christensen is an experienced executive who is passionate about working with retailers to understand their needs and translate those needs into useful tools and solutions.
"I really look forward to getting RidgeCrest Herbals' story out to our retailers and partners," said Will Christensen, the new CMO. "We shot right out of the gate ending the 2015 year by launching the 2016 RidgeCrest Herbals Almanac. It was a massive undertaking. The entire company was involved in this effort to develop a closer relationship with our retailers and consumers. I wanted to show everyone what it is like inside the walls of RidgeCrest, but the book ended up being so much more than I planned. It became a way for us to display our passions, not just at work, but also in our personal lives."
Brittini Gehring, Chief Botanical Officer
As a certified Master Herbalist, Brittini brings a unique blend of knowledge and personality to RidgeCrest Herbals formulations. Her passion for clinically effective, high quality, and natural products is the driving force that stimulates her creative and unique approach to botanical formulations.
"RidgeCrest Herbals has always been a place of learning and growth for both me and my career," said Brittini, the new CBO, "What excited me most about my new position is that RidgeCrest Herbals has entrusted me with a critical section of the company's mission to bring trusted and effective products to the market. My new position requires me to stay current on a wide range of laws, industry regulations, practices, ingredients, and trends. I feel very fortunate to be in a career that I find so rewarding, fun, and exciting."
About RidgeCrest Herbals
RidgeCrest Herbals makes natural remedies for individual health needs, including the top selling ClearLungs, SincusClear, Anxiety Free, Hair ReVive, and more than 20 other formulas. The company's eclectic approach combines natural methods and ingredients from around the world to deliver the most effective results. To learn more about RidgeCrest Herbals visit www.rcherbals.com or call 1-800-242-4649.
---
Jun 5, 2014
Thank you Vitamin Retailer!

We are so proud to have won a VITY 2014 Award!

Anxiety Free won for the category called
Specialty Combination Formulas—New Specialty Combo Formula.
Anxiety Free Stress Release is a comprehensive formula for combating stress and anxiety naturally and without side effects. It includes full (clinically proven) levels of each of the following ingredients.
Sensoril is a patented ingredient that has been shown to:
Increase resistance to fatigue, stress and tension
Promote emotional well-being
Counteract the negative effects of stress
Promote mental clarity, concentration and alertness
Enhance energy levels for physical performance and endurance/li>
L-Theanine is an amino acid that provides a sense of relaxation within 30-40 minutes, through at least two different mechanisms. First, it stimulates the production of alpha brain waves, creating a state of deep relaxation and mental alertness similar to what is achieved through meditation. Secondly, L-theanine is also involved in the formation of GABA (discussed next).
GABA is an inhibitory neurotransmitter that plays an essential role in increasing alpha relaxing/reflecting) brain waves and decreasing beta (alert/working) waves. It influences the levels of two neurotransmitters, dopamine and serotonin. Human research shows that GABA not only induces relaxation but also reduces anxiety. These three clinically proven ingredients combined with B-vitamins, Eleuthero, Lemon Balm, Holy Basil and others provide complete system support.
Shop for Anxiety Free
Vitamin Retailer 2014 Award Winners
---
Jan 23, 2014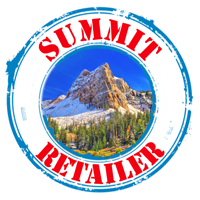 The RidgeCrest Herbals Retailer Program will be introduced at Expo West this year! (Booth #1366)
The RidgeCrest Herbals Summit Retailer program offers a retailer locator, special discounts, staff training and marketing incentives for participating retailers.
Retailers! Register at the booth for a free gift! Come see us at booth #1366 during the show.
---

Free Shipping
over $50! Buy 4 of a single item, get 25% off!

Monthly Deals!
Check for monthly deals!

Satisfaction
Guaranteed Satisfaction on all products

Secure ordering
Safe Shopping guarantee
Subscribe to Our Mailing List